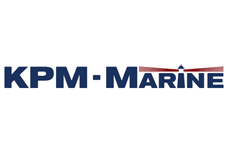 KPM Marine, based in Birmingham UK, has specialised in the design and manufacture of safety critical products for the marine and automotive industries for over 20 years. The KPM range of products for the marine industry includes seating, modular vessel interiors, engine room air management systems, bilge pumps and sea strainers.
KPM Marine design and manufacture a range of seating and components. Specialist seats include bridge seating with integrated helm and controls. KPM work closely with the high speed workboat and windfarm support craft sector. A range of Class 3 seating is designed to offer high levels of protection and comfort for crew and passengers where the vessel is used in demanding speed and sea state conditions. KPM Class 3 seats are fully crash tested and are type approved to HSC Code Annex 10 with DNV.
In the process of designing the 12G seating system, for crews and personnel that are exposed to open sea transits on a daily basis, KPM Marine developed a series of high specification components that are available as separate items. The KPM Unitrack System provides a structural mounting system for seats. The KPM 12G Slider and Pivot were developed to meet regulations of the HSC Code. KPM Marine also manufacture shock mitigation mechanisms for Scot Seat jockey seats that are used on professional and military RIBs and high speed craft.
New products designed specifically to end-user requirements include the Intelli-Fender which monitors the pressure a windfarm support vessel makes on the wind turbine post. DeckSafe is a system for safe manoeuvring of goods on the deck, even in adverse conditions. KPM Marine 2 CUBED Modular Interiors are a pre-designed, lightweight system that enables below deck spaces to be constructed quickly on workboats and professional fast craft. Modular units include workstations, storage, heads, showers, galley and bunks.
Technical Director - Jules Morgan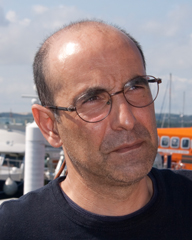 "KPM design and manufacture in house so we can turn our hand to a variety of engineering. Build quality, reliability and finish are of the highest standard. Our marine systems can be COTS, commercial off the shelf, or built to suit customers individual requirements. We already work alongside many Naval Architects from the very beginning of projects and offer guidance on what is possible as ideas unfold during the build."
"By utilising years of in-house experience, KPM offer a mission critical design analysis program to enhance vessel designs. KPM are providing COTS pumps, air systems, seating and complete interiors for the latest UK Royal Navy workboat fleet. All products are designed to be light weight with extended duty cycles and minimum maintenance."
"The design team at KPM use Solidworks CAD and has broad experience developed over many years. We aim to have early involvement in projects and offer design assistance to make sure that the correct product is specified, saving time and meeting budgets"
"KPM are working on co-operative development. The team are able to listen to what the customer requires then develop products to meet these needs. All aspects of KPM design are based on scientific research and application. Research is being done with organisations such as Coventry University, UK and the Royal Institute of Naval Architects. We also work with other companies on joint ventures. KPM continuously strive to be at the leading edge in research, design, safety and all the latest legislation connected with the marine industry. Safety and comfort are top priorities for our seating products."
"We have recognised that as competition increases vessel build costs need to fall. Multiple vessels being built allows standardisation and the cost of build can be reduced at design stage rather than during the build, which creates delays and unforeseen cost. KPM Marine have developed a modular boat interior system that can be installed alongside our seating. This gives boat builders a system that can be easily re-configured to suit the end user."
Download Technical Information
View KPM Marine Products
Seat Type: Helmsman / Bridge / Crew
Seat Dimensions: H 1300 x W 600 x D 657mm
Seat Weight: 18.6kg / 41lb
Applications: Internal


Seat Type: Helmsman / Bridge
Seat Dimensions: Width 500mm (20")
Seat Weight: 46 kg / 100 lbs
Applications: Internal


Seat Type: Helmsman / Bridge
Seat Dimensions: Width 500mm (20")
Seat Weight: 46 kg / 100 lbs
Applications: Internal


Seat Type: Coxswain / Crew / Pilot
Seat Dimensions: Width 450mm (18")
Seat Weight: 18kg / 40lb
Applications: Internal


Mounting System: Fits Various Seat Types
Type Approved: DNV Annexe 10
12G Slider Seat Slider
12G Pivot: Seat Swivel


Marine Grade Aluminium: Strong Lightweight Track
Variable Speed: Electric Track Bridge Chairs
Modular Design: 1 Metre Lengths Slot Together
KPM Integration: Suspension Seats / 2Cubed System


Seat Type: Crew / Passenger
Seat Dimensions: Width 500mm (20")
Seat Weight: 24.5 kg / 54 lbs
Applications: Internal


Pre-Designed Units: Lightweight / Modular
Fast Installation Panels: Floor / Ceiling / Wall
Aluminum Track: Structural / Crash Tested
Service Arteries: Lighting / Power / Cable


Modular Cabin Units: Strong / Lightweight
Frame Construction: Aluminium Box Section
Positioning Points: Roofline Lifting / Modular Feet
3 DNV Standard Sizes: 8 / 10 / 12 Feet Footprint


Predator Pumps: Multi Purpose Capability
Deep Reach 350 Pump: For Limited Bilge Access
Scavenger 350 Pump: Bilge Access in V Hulls
Emergency 500 Pump: Portable / Quick Connect


Air Management: To Class Specifications
Plug & Play Design: Quick Installation
Super Marine Cyclone: Lightweight / Compact
Internal & External: Vents / Ducts / Components