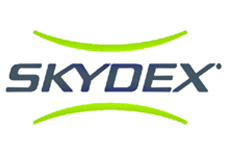 SKYDEX is a high-performance technology company that develops and manufactures customized cushioning solutions to reduce the effects of vibration and impact - Protecting People and Things That Matter.

SKYDEX technology works by utilizing elastomers and proprietary geometries to create a multiphase spring that is engineered to react differently to various levels of impact and vibration.
SKYDEX is proven to protect people in the harshest and most demanding conditions, from athletic running shoes and helmets to the primary impact-absorbing components in bomb suits.
SKYDEX blast-mitigating decking is installed in over 26,000 military vehicles and shock mitigating boat decking on over 6,000 marine craft. A range of shock mitigating seat cushion inserts is now available for multiple applications.
RS & WBV (Repetitive Shock and Whole Body Vibration) can affect the occupants of marine craft operating in waves. SKYDEX aims to improve comfort and safety for crews and passengers on all types of fast craft and workboats.
View SKYDEX Products
Depth Overall: 16mm
Top Surface: Grey / Coin Top Grip
High Performance: Stable Underfoot / Reduce Fatigue
Versatile: Suitable for New Builds & Retrofit


Depth Overall: 18mm
Top Surface: Grey / Crescent Grip
High Performance: Stable Underfoot / Reduce Fatigue
Versatile: Suitable for New Builds & Retrofit


Depth Overall: 30mm
Top Surface: Grey / Cross Hatch Grip
High Performance: Stable Underfoot / Reduce Fatigue
Versatile: Suitable for New Builds & Retrofit


SINGLE LAYER: 25mm Seat Inserts
DOUBLE LAYER: 50mm Seat Inserts
TRIPLE LAYER: 75mm Seat Inserts
Versatile: Suitable for New Builds & Seat Refits


SKYDEX Videos