Future Amphibious Force 2021

04.05.2021
Future Amphibious Force 2021 on 18 & 19 May will bring together international leaders to contribute and share knowledge on the future nature and utility of amphibiosity, as well as how their services are preparing for change.

The two-day online conference will foster an environment of collaboration, providing an opportunity for participation in interactive discussions and high-level debates.

Hosted with support of the Royal Marines, Future Amphibious Force 2021 takes place at an exciting time for UK amphibious capability, as the Royal Marines forge ahead with a major transformation programme to develop the Future Commando Force.

Speakers will share their assessments of the changing threats faced by navies and amphibious forces, priority capability areas for development and how Marine forces are adapting to this new world through the use of new disruptive technologies.
Future Amphibious Force 2021 topics include:
Naval Expeditionary Force Development and Force Structure Assessment

Today's Security Environment And The Need For A Flexible Amphibious Response Option; Projecting Power From Ship-To-Objective Across A Wide Range Of Operations
The Power Of Amphibious Operations In The 21th Century. A Way Back To Our Roots
The Future Of British Littoral Strike Operations, And The Future Commando Force
How The US Ensures That Amphibious Training Keeps Pace With Changes In Doctrine And Strategy
How The UK Is Engaging With Industry Partners To Attain Its Future Commando Force
Royal Netherlands Marine Corps Maritime Special Operations
The Challenges Of Command And Control In A Contested Amphibious Environment
The Importance Of Innovation In An Unstable World: Changing Technologies For The Future Commando Force
RIB & HSC is pleased to be a Media Partner and Supporter of
Future Amphibious Force 2021

RIB & HSC readers can SAVE 10% off the standard attendee price.
Just use the discount code 'RIBHSC10' when registering.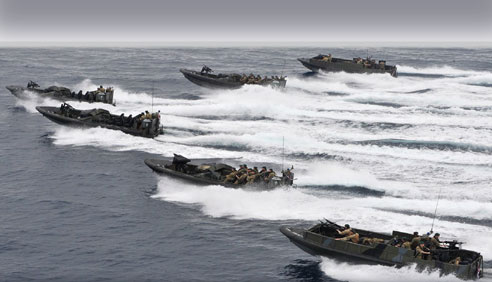 All images are copyright RIB & HSC 2022 unless otherwise stated.
This does not exclude the owner's assertion of copyright over the material.